Ambrosi gay.
Edit
Leave the game or read!
Edit
Creating an Account
Edit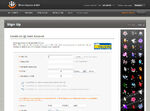 ก่อนอื่นคุณจำเป็นต้องสร้างไอดีเสียก่อน:

แนะนำให้ใช้ Gmail เพื่อหมดปัญหาเรื่องไม่ได้รับเมลล์ (gmail.com)




Downloading a Game
Edit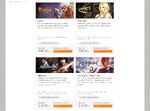 ดาวน์โหลดตัวเกม Lunia:
First Logging
Edit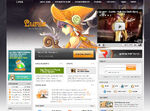 สามารถล๊อกอินได้ที่นี่:

หลังจากล๊อกอินให้คลิกปุ่ม "Play Live" :





คุณจะต้องดาวน์โหลด Ijji's Launcher เพื่อเข้าเล่นเกมส์:

(cdn.ijjimax.com/nhnusa/dist/hansetup/ijjiAutoInstaller.exe)

ถ้ามีปัญหาเกี่ยวกับ Internet Exploror แนะนำให้ใช้โปรแกรม Firefox จะดีกว่า (www.mozilla.com/firefox/)


Note:: Currently, ijji is using Reactor to open run its games. You will be required to download, open and run reactor before you can start playing.
Creating a Character
Edit
การสร้างตัวละครในตอนแรก สามารถเลือกได้ 6 ตัวละคร ดังต่อไปนี้:
Sieg (Knight)
Eir (Healer)
Dainn (Wizard)
Tia (Thief)
Dark Eir (Dark Princess)
Arta (Engineer)

Then you can choose your Name and start.


Other 7 Characters are unavailable for beginners:
Lime (Combat Slime) - 50 deadly poison jelly jellies, then go to 4-8 History to unlock
Dacy (Puppeteer) - -500 g ?
Krieg (Paladin) - 700 g ?
Yuki (Ice Magician) - --- g and dark shadow's eye
Arien (Archer)- ----g and dark shadow's eye
Ryan (Bounty Hunter)- ----g and dark shadow's eye
Kali (Dark Bard)= ---g and dark shadow's eye
Asuka (Dual Wielder)- Cash item shop only
Ralph (Fighter)- ---g and dark shadow's eye
Currently, there are squares for every episode (set of stages). You will start in the episode 1 square first. It is advised to move to the square that specified for episode the stage you will be playing since you will recieve a 10% exp boost.

First Stage
Edit
Hints for Beginners
Edit
Community content is available under
CC-BY-SA
unless otherwise noted.